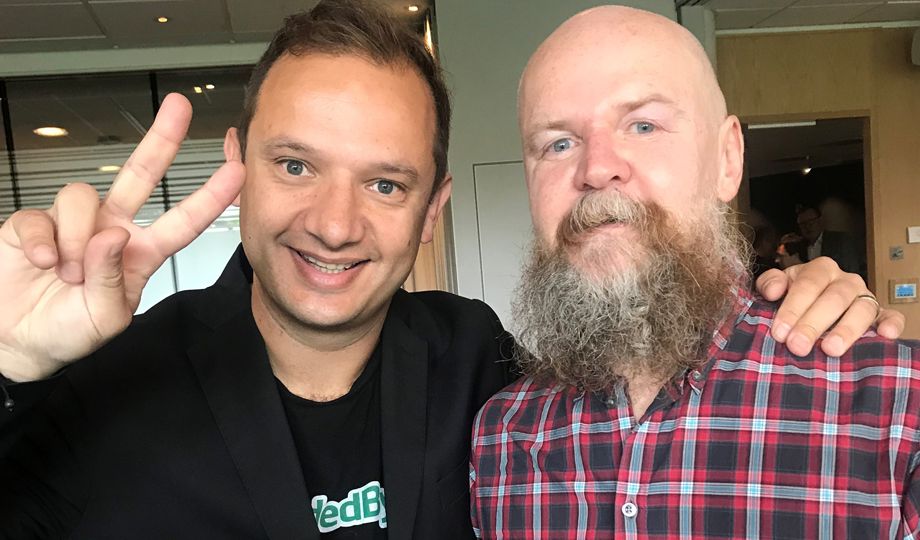 "A digital world" was the headline for Tuesday's meeting at the World Trotting Conference. Participants were inspired by two guest lectures, one delivered by Alexander Bard (to the right), cyber philosopher, music producer, TV celebrity and breeder of the derby winner Tsar d'Inverne; and the other presented by Daniel Daboczy (to the left), CEO and one of the founders of the crowdfunding company FundedByMe.
Alexander Bard's talk centred on people and the sport of trotting in the digital age. He described how old-fashioned, centralised structures are now falling apart and being replaced by phenomena such as Facebook and YouTube – flat, decentralised information flows that cannot be controlled. As a consequence, trotting can no longer rely on obsolete mass-media models, and will certainly die a slow death unless it succeeds in adapting to the new digital world. This is a whole new reality, and one which is still only in its infancy.
"Trotting tracks are in no way ready to meet future requirements, and have nothing to attract new generations. Personally, I'd sell Solvalla in a heartbeat," said Alexander Bard, perhaps a little provocatively.
He went on to explain that there is some good news, however – namely that trotting is standing firmly on three sturdy pillars which are sure to become factors for success, and must serve as the springboard for the future:
– Gaming is timeless; it will always interest people and it's a perfect fit for the digital environment.
– Three full minutes of excitement and drama. That's how long a race lasts. It's an attractive format and needs to be showcased using new technology in every way imaginable.
– The interaction between horse and driver is fascinating to many people and inevitably generates interesting stories to tell.
Crowdfunding leads to involvement and active participation
"We are currently experiencing a paradigm shift, with new ways of thinking that are changing and overhauling established models of financing. Use the new tools to involve people and promote active participation." That was the main message in Daniel Daboczy's talk.
Crowdfunding is a concept that first appeared in 2010 and is now spreading rapidly all over the world. Through social networks and crowdfunding, people can make large or small investments and thus become personally involved in supporting, financing or acting as ambassadors for different businesses and enterprises. In this context there are already numerous examples of horse purchases being crowdfunded (Rikstravet), and the approach is also being adopted by heavyweight institutions – the Louvre in Paris purchasing a work of art for a truly staggering sum, for example.