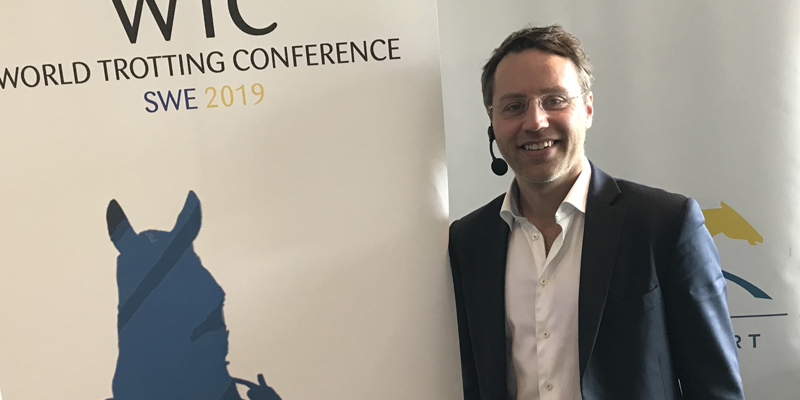 The World Trotting Conference in Stockholm was opened today by Ulf Hörnberg, acting President of Svensk Travsport. The trotting conference, which will run until Friday this week, brings together 13 trotting nations from three continents. The theme for this year's conference is "Change".
Five standing committees will be working throughout the conference, and there will be guest lectures every day. The principal theme for Monday was "Sports and business", where professor Martin Carlsson-Wall from the Stockholm School of Economics kicked off the event with a talk entitled "Meeting the future by leveraging history".
The world of sports is currently changing, incorporating high levels of innovation and digitalisation. Professor Carlsson-Wall discussed what this means for the arena experience, and how important it is to go back and draw on historical events, symbols and memories.
In his speech the professor highlighted the example of FC Barcelona, one of the most successful football clubs in the world, which succeeds in uniting both club feeling and history with an ultra-commercial business operation – creating a hybrid organisation that combines the physical and digital worlds with their 100,000 members and 300 million followers.
In the same way, hybrid organisations like the sport of trotting must succeed in combining commercial and not-for-profit operations with both the physical dimension and the digital world if they are to meet the future successfully.
Trotting in Sweden has taken up the challenge of developing the hybrid organisation, and has implemented a comprehensive programme of education over the past two years, founded on three strategic platforms: professionalising the sports office, innovation and sustainability work.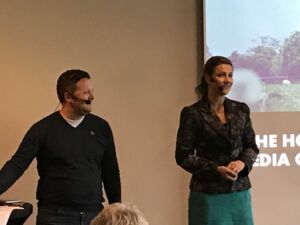 Princess Märtha Louise and the well-known Norwegian cyclist Geir Kamsvåg then took to the stage to present the YouTube channel and the HEST360 website. The objectives of the Norwegian initiative have been to unite all the different branches of equestrian sport, to increase interest in horses, and to boost recruitment.
The principal ambassador and head of programme is Princess Märtha Louise, who is a devoted horse enthusiast, and who has been active in the sport as a member of the national show-jumping team and a pony-mother. Through a series of inspiring presentations, she and the famous cyclist Geir Kamsvåg guide viewers into the fascinating world of equestrian sports.
"Everything stems from my desire to spread a love of horses, and, above all, interaction with horses – which is truly wonderful. We want to use film clips to inspire using both novices and professionals to try new types of equestrian sports," says Princess Märtha Louise.