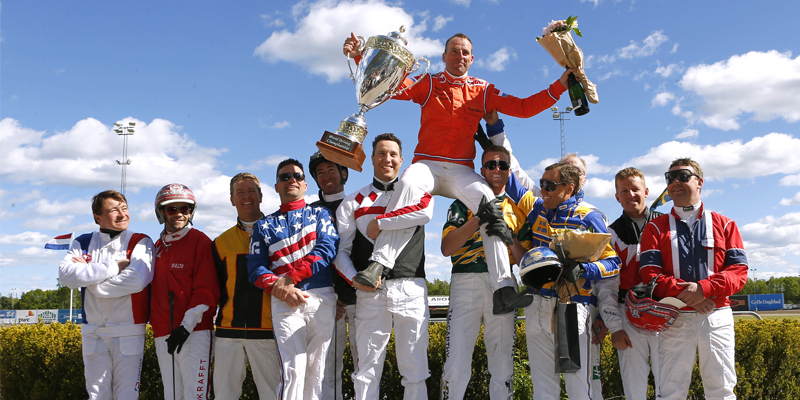 The last day of the World Driving Championship was intense as the drivers at the top gave it their all, but in the end Dutch representative Rick Ebbinge had a phenomenal last day in Gävle and received the title of the world's best driver.
Rick Ebbinge was in sixth place following Wednesday's races, a total of 20 points behind then leader Ulf Ohlsson. Despite his placement Ebbinge still had his eyes on the gold today and started the day with a victory from the front with Jackpot Band, then followed it up with another victory with the cold-blood Pyrmo, who was the strongest on the outside of the leader.
The two victories took Ebbinge up to first place, where he stayed for the rest of the day, as Ulf Ohlsson and Doug McNair would not make the most of their shots in the last three races.
– I got a good start of the day and then I just tried to stay away and it went all the way. Just being here participating with these top drivers means a lot, and it is even more fun to win, said Rick Ebbinge at the victory ceremony.
Ulf Ohlsson and Doug McNair battle for second place came to an end, when Yannick Gingras won the 24th and final race of the World Driving Championship with Vine Vision. The horse finished strong, and the American pushed Ulf Ohlsson to the bronze medal and Canadian Doug McNair to just off the podium only two points after Ohlsson.
Todays other two races were won by new Zealander Matthew Williamson who took his second win in the competition with the cold-blood Edbest, and the previous world champion James MacDonald who won with Desideria de Soze.
The World Driving Championship has been running since 1970 when the Canadian Herve Filion won, and this was the first time that the title has gone to a Dutch driver. Rick Ebbinge won by six points and also became Driver of the Day with 53 points.
Final score in the World Driving Championship
1. Rick Ebbinge (Netherlands) – 199.5 points
2. Yannick Gingras (USA) – 193.5
3. Ulf Ohlsson (Sweden) – 191.5
4. Doug McNair (Canada) – 189.5
5. Eirik Höitomt (Norway) – 187
6. Matthew Williamson (New Zealand) – 181.5
7. Mika Forss (Finland) – 176
8. Franck Nivard (France) – 162
9. James MacDonald (Canada) – 154
10. Michael Nimczyk (Germany) – 149.5
11. Rodney Gatt (Malta) – 142
12. Todd McCarthy (Australia) – 136