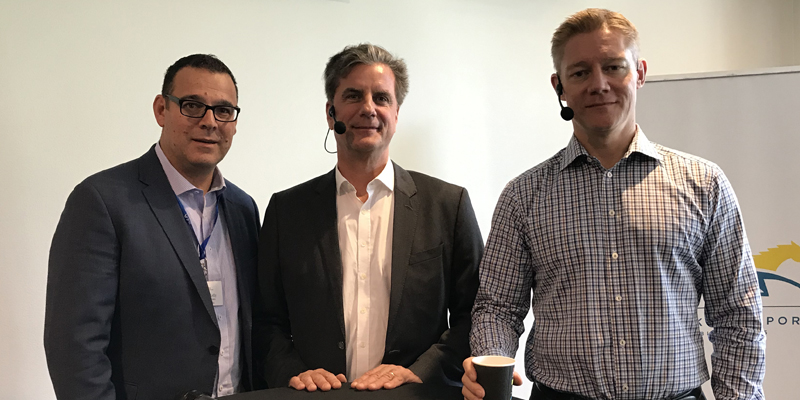 Trotting is a combination of sport and betting, and on Thursday the world conference turned its attention to the crucial issue of financing for the horse racing industry, and the demands that betting companies will be making on the sport in the future.
Hasse Lord Skarplöth (right), CEO of ATG, introduced the topic of how trotting can become more attractive to the betting public.
"Trotting is an extremely exciting sport, and few other sports can deliver anything as dramatic as a close run-in and a finish line where everything is decided. It's hugely important to make sure to take a modern approach to packaging trotting from the ground up in order to maintain its attraction. Packaging is paramount!" emphasises Hasse Lord Skarplöth.
He then made the point that the sport of trotting in Sweden has not always been sufficiently innovative, and has failed to keep pace with demands from its customers (the general public, horse owners, gamblers). Many other major sports have successfully switched strategies, from sport to entertainment, where the event itself takes precedence over the sport, and the emphasis is on attracting young people and women.
Trotting has to find the answers to five questions: who is driving change, whom is the sport for, which customers do we listen to, are you benchmarking your sport, and should events consist of four minutes of action followed by 25 minutes of waiting – repeated ten times?
PMU's new strategy
Aymeric Verlet (middle), International Director of the French betting company PMU, presented a completely new strategy for reversing a deep negative trend in betting on horses that has been under way since 2012. Having spent many years increasing the number of races and the number of betting options offered to gamblers for longer and longer periods of the day, the company has now taken a completely different approach.
The number of races has been cut by 20 per cent, and some forms of betting have been eliminated or offered only on a part of the competition programme. Nor is the competition calendar so intensive. Disappointed by the weak development in betting on sports and poker that followed in the wake of the re-regulation of the area, the company is now returning to its roots and its DNA – betting on horses.
The new strategy can be summed up as "less is more", with betting on horses being "the best win".
"We want to reinforce tote betting, which we consider to be superior to fixed odds betting with regard to earnings for equestrian sports and gambling security. We concentrate important forms of betting on certain races and build up large, stable pools. Betting on horses has become attractive again. We are seeing a positive development trend with higher turnover, and this is taking place in the big games," says Aymeric Verlet.
Andrew Kelly (left), CEO of Harness Racing Australia, stated that 98 per cent of equestrian sports income stems from gambling, and that gambling has long been enjoying positive development in Australia, with increasingly international dividends. In contrast to the situation in Sweden and France, fixed odds betting is also developing strongly and has recently overtaken tote betting in size.
"In play" betting is relatively new in Australia, allowing bets to be placed while the race is under way. It now accounts for almost 20 per cent of turnover on the races where this option is available. Surveys indicate that "In play" betting is also highly attractive to young people.
During the subsequent discussions, it was established that gambling is a global phenomenon today, and that ATG and PMU should team up with the trotting organisations to establish betting partnerships based on big pools so as to generate interest. This also means that equestrian sports need to become easier to understand, with harmonised rules.